Moving Packs With Free Metro Delivery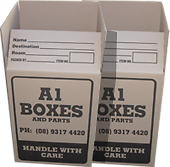 Please Note : Free delivery only applies to these bundles as they are . If you wish to add other items to your order please contact us by phone on 08 9417 2000 / 0438 175 263 or via our contact page https://www.a1boxesandparts.com.au/content/page/contact-us.html
Alternatively , please place a separate order for the extra items you need and select " Pick Up Instore " at checkout.If any extra delivery charges apply we will contact you to discuss.
Some small items like tape markers , etc can be added to your order without incurring an extra delivery charge.
If you are wanting to add extra boxes to your order an extra charge may apply but this will depend on the type of items you which to add and on your location.
If you prefer you can collect from our warehouse and with some bundles receive a free bonus - please refer to notes in each individual package.
Moving house and not sure how many boxes you will need ?
Why not start with one of these convenient packs which include delivery to your door within the inner Perth metro area.Extra charges may apply if you live in one of the outer suburbs which are located past Rockingham to the south , Midland to the east and Ocean Reef to the north.
These convenient bundles are designed to save you time stress and money , and if you take advantage of our buy back option you will save even more money.
Product Listings