Packing Tape / Dispensers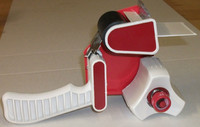 Need to seal your boxes? We provide Brown Tape and Clear Tape 48mm x 75m roll. One roll does approximately 15 boxes.
Always loose the end of the tape, a pistol grip tape dispenser is a great investment. A dispenser has many uses after your move. An valuable household item.
Product Listings